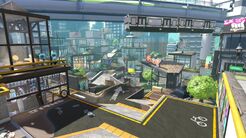 The Reef is a multiplayer stage in Splatoon 2. It is located a short distance away from Inkopolis Square. The area is a popular destination when not being the battleground for a Turf War. The Reef contains several different types of shops in the city.
The Reef was the first stage that was announced for Splatoon 2 and was officially revealed during the Nintendo Switch event in January 2017.
Layout
TBA
Notable Locations
TBA
Ranked Battle
TBA
Hazards
TBA
Trivia
TBA
Gallery
TBA
Ad blocker interference detected!
Wikia is a free-to-use site that makes money from advertising. We have a modified experience for viewers using ad blockers

Wikia is not accessible if you've made further modifications. Remove the custom ad blocker rule(s) and the page will load as expected.