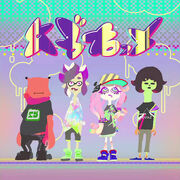 The Chirpy Chips (JP: ABXY) are a band in Inkopolis. With their sea anemone lead singer and a sparkling electronic sound, this unique four-piece has been setting the Inkopolis Top 40 on fire! Take a listen to their latest single, Shellfie (JP: Friend List), which is also the background music you'll be hearing during battles now![1]
Members
Drums
A lobster with an image from the UI on their shirt.
Bass
An inkling with grey and purple hair. Possibly the lead keyboard player.
Vocal
This sea anenome girl, accompanied by her black clownfish companion, is the lead singer for the Chirpy Chips.
Guitar
An unknown creature (possibly plankton) wearing a shirt with a reference to The Dark Side of the Moon. Possibly the bass/guitar player or another keyboard player.
Songs
Trivia
The band's name in the Japanese version is "ABXY", which is a reference to the Japanese chiptune band YMCK. It is also a reference to the A, B, X, and Y buttons on the Wii U controller.
References