Welcome to the Splatoon Wikia!
The Splatoon Wikia is a growing community of Nintendo fans and Splatoon enthusiasts who would like to maintain a consistent database on everything Splatoon. If you are new, please check the Help and Rules page to see what the rules are and needs to be done. If you are wondering about the staff of this wiki, they consist of Silver the wolf 28, AgentMuffin, and Splatfest, although numerous others are listed. If you need anything, feel free to contact us. If you want to chat, you can also visit our forum and post topics. We hope to see you contributing wisely!
What is your favorite NPC in splatoon?

Splatoon is a third person shooter by Nintendo. The game consists of online multiplayer and a single-player campaign, where the player uses an arsenal of weapons to splatter ink around an arena. Player characters are called 'Inklings' who have the ability to change between a humanoid "kid" and squid-like form. Transforming into a squid allows the player to swim through ink of their own color which is much faster travel than attempting to traverse it in human form. They can maneuver up walls and through grates and replenish their ink in the process. Players are equipped with primary weapons, a secondary weapon as well as temporary special weapons. The game was finally released on 5/29/15 in North America, 5/28/15 in Japan, and many copies were released early in France. Join the wiki and help out!  
10:10

Splatoon - H-3 Nozzlenose DLC Weapon Tour!
---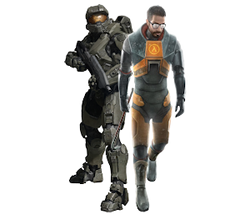 Shooter Games
Go to these sites for info or for help with your own wiki!
Agents of Mayhem • Battleborn • Battlefield • Borderlands • Breakaway • Call of Duty • Counter-Strike • Counter-Strike Online / Counter-Strike Nexon: Zombies • Critical Strike Portable / Critical Ops • CrossFire • Crysis • Destiny • Diabotical • Doom • Duke Nukem • Far Cry • Gears of War • Half-Life • Halo • Killzone • Max Payne • Medal of Honor • Overwatch • PAYDAY • Pixel Gun • POSTAL • Prey • Quake • Red Faction • Resistance • SAS: Zombie Assault • Shadow Warrior • Spec Ops • Splatoon • Star Fox • Star Wars: Battlefront • TimeSplitters • Titanfall • Tom Clancy's Ghost Recon • Tom Clancy's Rainbow Six • Turok • Warface • Wolfenstein
Want your community included? See how!

Ad blocker interference detected!
Wikia is a free-to-use site that makes money from advertising. We have a modified experience for viewers using ad blockers

Wikia is not accessible if you've made further modifications. Remove the custom ad blocker rule(s) and the page will load as expected.