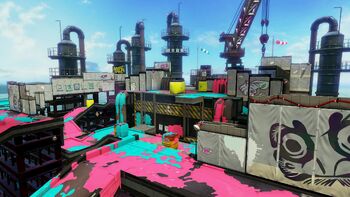 Saltspray Rig (Japanese シオノメ油田 Shionome Yuden / Rip Current Oil Field) is a multiplayer stage in Splatoon.
Layout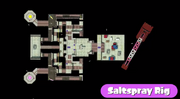 Saltspray Rig appears to be an ocean-based oil rig, with pipes, crates, and suspended platforms resting over a large body of water. It is shaped somewhat like a squid, with two Respawn Points leading into a series of pathways and drop-offs. There are two elevators located in the middle of the map to quickly move from the Bottom Area to the Top Area. Pathways stemming from each Respawn Point cannot be accessed by the other team, and branch off into smaller trails that lead to the Top Area and Bottom Area.
Saltspray Rig's total area is 1900p.
Notable Locations
Ranked Battle
Hazards
Trivia
Gallery
Names in other languages
Language
Name
Notes
Japanese
シオノメ油田
Shionome Yuden
Rip Current Oil Field
French (NA)
Plate-forme Mouette
Seagull Rig
German
Bohrinsel Nautilus
Nautilus Rig
Ad blocker interference detected!
Wikia is a free-to-use site that makes money from advertising. We have a modified experience for viewers using ad blockers

Wikia is not accessible if you've made further modifications. Remove the custom ad blocker rule(s) and the page will load as expected.