Not to be confused with Kraken.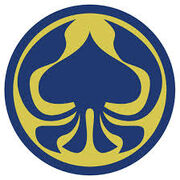 Krak-On (Japanese: クラーゲス Kuragesu) is a brand in Splatoon. This particular brand has a 30% chance at getting the ablity Swim Speed Up and a 3% chance at getting Defense Up.
Gears
Clothing
Headgear
Shoes
Weapons
While generally unaffected by brand differences unlike gear, certain brands have also manufactured weapons.
Trivia
Ad blocker interference detected!
Wikia is a free-to-use site that makes money from advertising. We have a modified experience for viewers using ad blockers

Wikia is not accessible if you've made further modifications. Remove the custom ad blocker rule(s) and the page will load as expected.