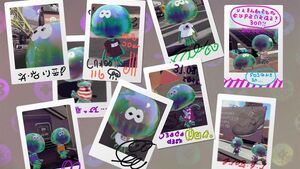 Jellyfish
are creatures found in
Splatoon
and confirmed to return in
Splatoon 2
. They can be found walking around
Inkopolis
, wearing various articles of clothing. The series' jellyfish highly resemble
real-life jellyfish
. However, the jellyfish in this game are highly anthropomorphized to the point of having eyes and being bipedal, likely from similar evolutions to those of the
Inklings
and
Octarians
.
Notable individuals
Jelonzo
Main article: Jelonzo
Jelonzo is a blue jellyfish who owns Jelly Fresh, a clothing store in Inkopolis. Most jellyfish in Inkopolis cannot speak the Inkling language; while Jelonzo is an exception, he is only able to speak Inkling with a thick accent, which the English localizations, translate as Engrish.
Trivia
Gallery
Ad blocker interference detected!
Wikia is a free-to-use site that makes money from advertising. We have a modified experience for viewers using ad blockers

Wikia is not accessible if you've made further modifications. Remove the custom ad blocker rule(s) and the page will load as expected.