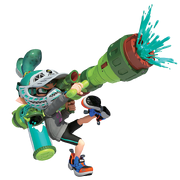 The Inkzooka (Japanese: スーパーショット Suupaa Shotto / Super Shot) is a Special Weapon in Splatoon.
Description
When the Inkzooka is fully charged (Or acquired in Hero Mode from a Canned Special), the user is able to shoot about 1 shot per second within roughly an eight second time period. One shot from the Inkzooka is powerful enough to splat any opponents caught in the blast.
Usage
Inkzooka is great for short-range weapons like the Carbon Roller or Aerospray MG, to hit longer ranged opponents.
If the top of the tornado hits a wall, the whole tornado will dissapear. Aim low.
If you aim down, the tornado will travel forward. Don't try to snipe opponent below you.
Since you can't use your main weapon while using Inkzooka, don't use it if an opponent is nearby.
Countering
The tornadoes can't go through walls, so simply hide behind one.
If you are using a fast, close range weapon, you can easily rush an Inkzooka user. Try to stay out of sight until you reach them.
Inkzooka users can't use their sub or main weapons. Sneak up on them and then splat them
Hide in ink, then hit them when they aren't paying attention.
Trivia
If one looks closely, the text on the Inkzooka is the Inkling language, and not proper text.
Sets
Gallery
Names in other languages
| Language | Name | Meaning |
| --- | --- | --- |
| Japanese | スーパーショット | Super Shot |
| French (NA) | Lance-tornades | Tornado Thrower |
Ad blocker interference detected!
Wikia is a free-to-use site that makes money from advertising. We have a modified experience for viewers using ad blockers

Wikia is not accessible if you've made further modifications. Remove the custom ad blocker rule(s) and the page will load as expected.