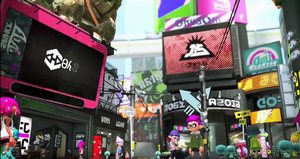 Inkopolis Square is the primary hub area of Splatoon 2, in another part of Inkopolis. Players can engage in various activities between events, and purchase Gear in the four shops within Inkopolis Galleria. 
This is also where the band Off the Hook works in.

Gallery
Trivia
While Inkopolis Plaza has large statues of a kitsune (a fox spirit) and a tanuki (a raccoon-like canid), Inkopolis Square has large statues of a tortoise and a red paper crane on its buildings.
See also
Ad blocker interference detected!
Wikia is a free-to-use site that makes money from advertising. We have a modified experience for viewers using ad blockers

Wikia is not accessible if you've made further modifications. Remove the custom ad blocker rule(s) and the page will load as expected.