Flounder Heights (Japanese: ヒラメが丘団地, Hiramegaoka Danchi) is an online multiplayer stage in Splatoon.
Layout
Flounder Heights is an apartment complex comprised of a sandlot, some smaller buildings, and main apartment building in the center. Players can go over the apartment building or through the opening in the center to reach the other side. It features a large amount of verticality due to the many inkable walls. The central apartment building is the highest point of the map towering high above the areas below.
Notable Locations
Central Apartment Building - The highest point of the map and the center point of the map. Most of the battling during an ink battle will most likely take place around this area, either on the roofs above or on the ground below. With inkable walls, it can make for an extremely tactful area.
Lobby Roof - While chaos may ensue on the roofs, the path in between the two main apartment wings can make for an excellent way to cross into enemy territory without having to take the high ground or even as another entry onto the high ground.
Sandlot - On both sides of the map, there is a flat square sandlot. This area is dangerous as it is completely surrounding by the enemy's higher ground. However, this likely the closest you can advance to the enemy spawn.
Ranked Battle
Splat Zones - This map includes two Splat Zones, each zone is located on one of the two main roofs. The high ground is the battlefield of this mode and using the buildings' walls can make for great access to either zone.
Tower Control - The tower is located at the center of the map in the lower path between the two main buildings. The tower will travel over the divider wall and travel down the street before traveling into the rival's sandlot. The goal points are at the center of each sandlot.
Rainmaker - The Rainmaker is located on the grate platform between the roofs of the two apartment wings. The Rainmaker must be taken to a pillar located in center of the rival team's sandlot. Some platforms have been placed near the enemy base to allow for some more covert entry.
History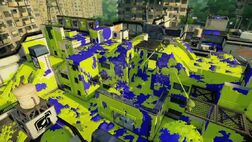 The stage was first shown off during a Japanese Splatoon commercial in July 2015. On August 9th, 2015, datamining of the August Update (Ver. 2.0.0) revealed the stage's name to be Flounder Heights.
Trivia
The map was added to Splatoon on August 20, 2015 at 10pm ET (7pm PT)[1]
Near each team's base a map of Flounder Heights can be found. The map is updated in real time showing the ink coverage of the map.
The sound of cicadas can be heard coming from the trees on the lower streets. The closer to the trees the louder the sound is.

The cicadas will also sound agitated if their tree is inked.
Names in other languages
Language
Name
Notes
Japanese
ヒラメが丘団地
Hiramegaoka Danchi
Flounder Hill Apartment
German
Schollensiedlung
Plaice estate
French (NA)
Appartements Filament
Filament Apartments
Gallery
References