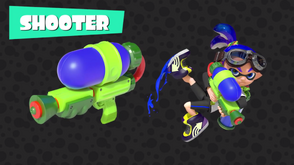 The Shooter is one of five 
Main Weapons
 available. 
It's a mid-range rapid fire weapon, and suitable for almost any situation.
The shots fire in an arch, with some exceptions. Depending on which weapon is used, the range, damage, rate of fire and even shot type can be drastically altered. The Shooter paint at an average range, but it's supported by being able to quickly move and turn while painting, easily covering large areas of all altitudes. 
It's the only Main Weapon available in the single-player campaign. 
The shooter contains a sub-class of weapons, the Blaster weapons
Weapon Comparison
*Requires Sunken Scroll from Octo Valley
**Downloadable Content
***Requires Amiibo
Pages in category "Shooter"
The following 42 pages are in this category, out of 42 total.
.

A

B

C

D

F

H

J

L

N

N cont.

O

R

S

T

W
Ad blocker interference detected!
Wikia is a free-to-use site that makes money from advertising. We have a modified experience for viewers using ad blockers

Wikia is not accessible if you've made further modifications. Remove the custom ad blocker rule(s) and the page will load as expected.