Brands are the companies that produce the gear found in the game Splatoon. They can range from producing common gear (noted with one star) rare gear (noted with three stars), and some manufacture weapons. Brands affect the chances of getting certain random abilities. By default, each secondary ability has a 6% chance to appear.
Brand Listing 
Bonus
The chances to get an explicit ability per brand are as follows (being x5 greatly increased chance and x0.5 reduced chance):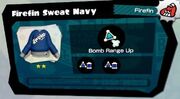 Firefin- x5 Ink Saver(Sub) / x0.5 Ink Recovery Up
Inkline - x5 Defense Up / x0.5 Damage Up
Krak-On - x5 Swim Speed Up / x0.5 Defense Up
Rockenberg - x5 Run Speed Up / x0.5 Swim Speed Up
Skalop - x5 Quick Respawn / x0.5 Special Saver
Squidforce- x5 Damage Up / x0.5 Ink Saver (Main)
Takoroka - x5 Special Charge Up / x0.5 Special Duration Up
Tentatek- x5 Ink Recovery Up / x0.5 Quick Super Jump
Zekko - x5 Special Saver / x0.5 Special Charge Up
Zink - x5 Quick Super Jump / x0.5 Quick Respawn
Amiibo - none
Cuttlegear - none
Famitsu - none
KOG - none
SQUID GIRL - none
x5 means the ability has a 30% chance to appear and x0.5 means the ability has a 3% chance to appear
Subcategories
This category has the following 14 subcategories, out of 14 total.
Pages in category "Brands"
The following 20 pages are in this category, out of 20 total.
A

B

C

F

G

I

K

R

S

S cont.

T

Z
Ad blocker interference detected!
Wikia is a free-to-use site that makes money from advertising. We have a modified experience for viewers using ad blockers

Wikia is not accessible if you've made further modifications. Remove the custom ad blocker rule(s) and the page will load as expected.