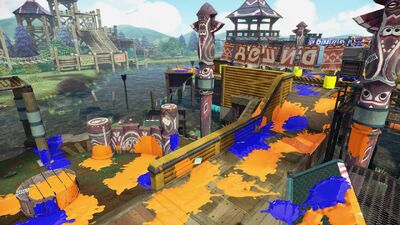 Camp Triggerfish (Japanese: モンガラキャンプ場 Mongara Kyampu-jou / Clown Triggerfish Campsite) is a multiplayer stage in Splatoon. It appears to be a wooden fort built over a lake, surrounded by a thick forest.
The map is used in multiple game modes, such as Regular Battle, Ranked Battle, and (perhaps) Battle Dojo. It was released on July 24th, 2015 at 7 PM PST (America) or July 25th, 2015 at 7 AM PST (Europe).
Layout
Camp Triggerfish is a lake side summer camp for Squids of all ages. The battleground features two large wooden dock which do not normally connect to one another. With water surrounding the entire stage, traversing can be a hazard.
There are only two initial ways to gain access to the enemy's side, both spanning from the net walkways on the far left of the map. These rope paths will either drop directly to the central pathways or go directly in front of the enemy's Respawn Point. Once the final minute has begun, the flood gates on either side will drop making access to the enemy dock much easier. In Ranked Battle the flood gates drop immediately at start.
Notable Locations
Ranked Battle
Hazards
Trivia
Gallery
Names in other languages
Language
Name
Meaning
Japanese
モンガラキャンプ場
Mongara Kyanpu-jou
Clown Triggerfish Campsite
French (NA)
Hippo-Camping
German
Camp Schützenfisch
Camp Archerfish
References
Ad blocker interference detected!
Wikia is a free-to-use site that makes money from advertising. We have a modified experience for viewers using ad blockers

Wikia is not accessible if you've made further modifications. Remove the custom ad blocker rule(s) and the page will load as expected.